Selasa 11 November 2014 aku menghadiri grand launching JYSK Pluit Village di lantai 3. Ini merupakan toko keduanya yang di buka di Indonesia yang mempunyai luas 1.700 M2. Setelah 9 bulan lalu toko pertamanya di buka di Mal Taman Anggrek. Karena animo masyarakat yang cukup baik maka toko kedua pun dibuka dan akan di buka 8 toko lainnya di Jabodetabek.
JYSK Group pusatnya ada di Scandinavia dengan toko pertamanya di Aarhus, Denmark yang dibuka tahun 1979. Saat ini memiliki 2.100 toko di 36 negara termasuk Indonesia. JYSK memiliki slogan Good offer, Perfectly for Indoensia Character and Easy to reach. Di harapkan dengan hadirnya JYSK di Indonesia bisa memenuhi kebutuhan masyarakat yang menghendaki furniture yang berkualitas dan selalu dalam jangkauan.
Acara grand laucnhing di buka dengan pertunjukan sulap oleh Fun Gabriel dan di lanjutkan dengan Denmark Dance. Pihak dari JYSK pun turut memberikan sedikit sambutan. Acara pembukaan dan gunting pita di pandu oleh Fun Gabriel lagi dengan sulapnya.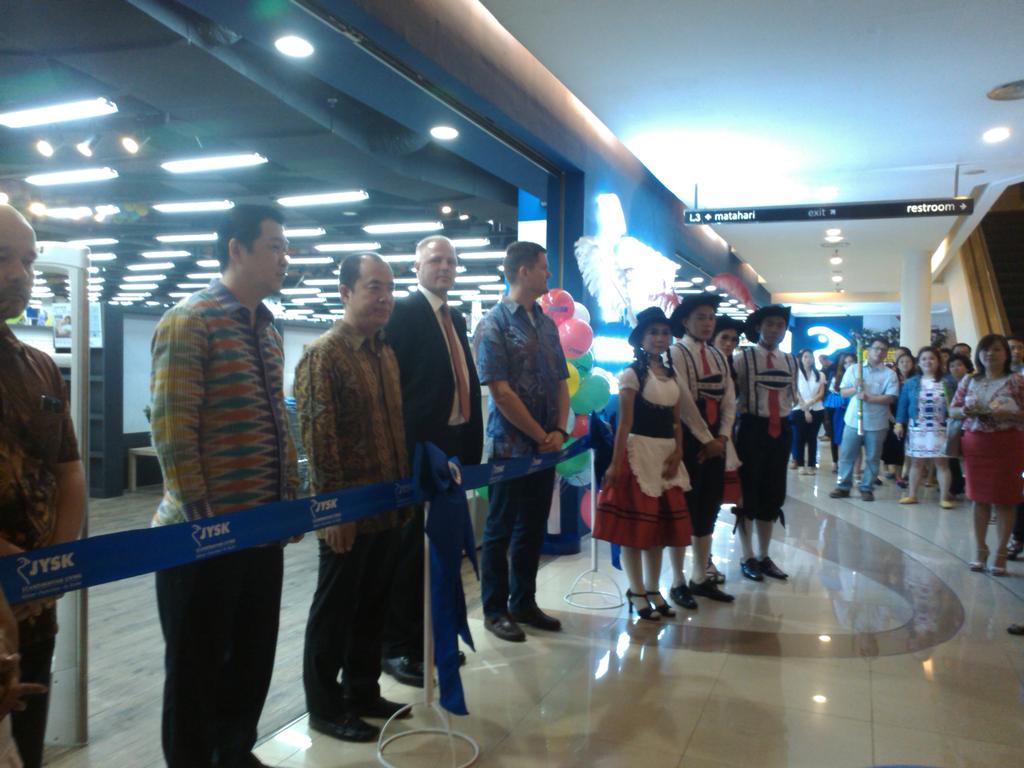 Setelah pengguntingan pita pengunjung dipersilakan masuk kedalam toko yang di sambut oleh ratusan balon yang turun dari langit-langit. Balon tersebut boleh di pecahkan dan didalamnya terdapat kupon hadiah. Kebayangkan hebohnya suara letusan balon di seluruh toko. Ada lagi kejutan lain untuk beberapa o
Ada acara inti lainnya saat gran launching JYSK Pluit Village adalah penyerahan hadiah kepada pemenang Share n Win yang sudah dilaksanakan sebulan sebelumnya. Berikut nama pemenangnya. Allhamdulillah aku kebagian hadiah vocer 500 ribu yang bisa di belanjakan di JYSK.


Setelah makan siang kami diberikan waktu untuk berbelanja dengan vocer yang sudah di berikan. Ada promo loh diskon sampai 70% di JYSK Pluit Village sampai akhir November ini.
belanjaan emak-emak nih
barang-barang yang aku beli di jysk termasuk mejanya.